on Sat Dec 30, 2017 9:11 pm
It was a late morning, and the atmosphere in the aquatic bio dome was a calm one, with just a gentle breeze weaving back and forth, occasionally shifting the sands of the nearby beach area. It almost seemed like nothing was going on at the moment, besides a few fish-like creatures swimming about in the waters, jumping out and in the water as if trying to entertain a crows that wasn't there.
Perhaps they were just playing around, or perhaps they've taken an interest in the strange addition in their environment. Namely a small, 2'5" tall light brown/blue feathered beast sitting on one of the large rocks jutting out from the water surface.
This one definitely looked out of place in the scenery, and appeared to be almost lifeless, sitting on said rock without making any movement, simply observing the area around....
on Sat Dec 30, 2017 11:45 pm
Oh the way the sun shimmers off of the water from underneath is always so pretty around this time of day! There was really just nothing quite like a fast paced swim around at this hour, getting to stretch your muscles and feel the rushing water on your face, Luna just loved it. Thoouugghh, speaking of the time, it was just about lunch time right!? Or close enough anyway, eh, who's counting. Lunch time is whenever Luna wants lunch time to be! And she wants it right now. Oh but lunch isn't so simple, oh no, no, no. Luna knew she had to work for it, and work for it she would, though there was no reason not to have a little fun with it all the while!
With a sudden uprush of water, Luna would swim powerfully straight upwards to launch herself to the skies above, unfurling her wings as the water slipped seamlessly off of her body as if she hadn't been in the water recently at all. She'd hang in the sky with her wings outstretched for a moment as her strange red and green eyes stared downwards at some jumping fish.
"Fooling mortal fish! You dare jump in the presence of Lunairllie, the great and powerful dragon of the sea! Your worthless bodies will be finally put to good use, your lives finally having meaning, for today. You shall be my sustenance!"
A rather high pitched, yet proud voice would shout at the top of her lungs from the air above before diving her whole body forward to dive-bomb back towards the waves nearly as fast as she exited them, a large eruption of water splashing upwards from where she dived in right at the center of all the jumping fish. After a sort of underwater U-turn, the dragon would jump back out of the water, fish caught in her jaws as she landed on her back ontop a rock, folding her arms together to hold the fish as still as possible as she munched happily into her prey.
on Sun Dec 31, 2017 12:53 am
Sun. Wind. Sand. Gulls. Water with a good amount of salt in it. Mmm, so this was what the living called the ocean. How peculiar and yet interesting in its own way. The sands had all sorts of oddities in it. Strange shells that moved about in the moist sands as the water moved in and out of the larger body. Multi-legged creatures that scuttled sides ways and brandished opened claws as they wandered by, their eyes swiveling in odd ways to watch the small creature that watched them with unblinking red eyes. The being would continue to observe the land and the creatures there before turning its eyes to the water, unphased by the glitter effect that was caused by the sun. From what it could scan there seemed to be life out in that water, but to examine it closer, it looked like they would have to get in the water.
Not really a problem, but more of a question of was it curious enough to go after that data right now or was the land just find for the time being? The creature would quietly process the question to find the most logical and beneficial answer for itself; however, mid-processing, its small eyes would land on a rock out in the water and upon it a strange bird like creature that seemed to be alone...until sometime later something came splashing out of the water and making a racket that became garbled as the waves crashed onto the shore. But this trivial thing did not matter. No what matter was that said pink thing was now on the rock with said bird thing and because both seemed so different from the small creatures it had been observing up until now the creature wanted to know exactly what it was it saw.
WIth a new goal set, the creature would get to its feet and stretch a bit before shaking out and making its way to the water. It would hardly pay the water any mind as it splashed against its paws and upper legs. No this little creature would keep moving forward its eyes locked on its targets; however, there was something rather odd about the situation. You see normally a thing going into water just sunk in the further it went into the liquid, but this little creature? It was not sinking into the water. In fact, it wasn't even swimming. No this little creature was actually walking on water, its paws coming out of the shallows and moving across the wet surface as if it was solid ground! But why and how one may ask. Well that is simple. It was due to science and technology done so well it gave this creature psychic abilities that let it bend the rules of the world a bit here in there to benefit itself more so than others.
While it could not be seen, the little creature was exerting energy that kept it from sinking into the salty water below, the timer ticking the moment it had begun moving. Unconcerned for with time for now, the little creature would continue to make its way across the water like an odd ghost like figure drifting across the ocean surface with a fluffy tail raised and a cute smile on its even cuter face.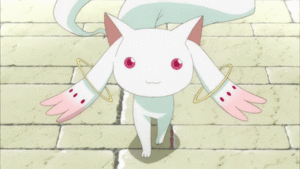 on Sun Dec 31, 2017 1:33 am
....and then the peace went and shattered into pieces with the appearance of a rather lively creature who didn't seem to mind the surroundings a whole lot. The small feathered creature would narrow his amber eyes when a sudden pinkish mass leapt out of the water, although he didn't quite move from his spot besides his tail making a slight back and forth swish due to newfound concentration. Such a loud thing this new person was. Nevertheless, Rhys wouldn't make a move until this one landed nearby him, at which point he would spread his wings, clicking his beak lightly. "Looks like mindfulness isn't someone's strong point.", he'd comment in a tone that sounded rather observational, as if he was trying to narrate what was happening rather than making a direct inquiry towards the newfound fish murderer. Did he care? That question would apparently remain unanswered for now, though one could hardly predict what was about to happen next.
on Sun Dec 31, 2017 4:33 am
With blissful glee, Luna would seem to make some sort of purring sound as she turned and tossed the fish in her hands, taking huge bites out of the fish every few seconds, almost devouring the entire thing in mere moments. She'd through her arms out to the sides when she was done, flinging the remains of her meal to the side as she did so. Stretching out her arms, legs and tail whilst letting out a satisfied giggle to herself and enjoying the beating sun on her skin before...

"Huh?" The dragon would tilt her head to the side to spot the large winged animal whom was also resting on the rock she had settled on. I mean, sure usually she wouldn't mind. "Did you just try to insult me!?" It wasn't like they were taking up much room or doing anything real bothersome towards her. "How dare you speak that way to the great dragon of the sea!" She'd shout, jumping up to her feet and staring at the prettily feathered beast. "You take back your vile insult puny mortal before I show you my wrath!" Though... Now she thought about it, what did mindfulness even mean? She had plenty of mind! She was super smart and talented. This creature didn't know what they were talking about.
on Sun Dec 31, 2017 6:06 pm
It would seem the small creature wasn't noticed as the bird decided to focus on the pink thing that was eating. The creature would pause within hearing range, its paws barely making a sound on the water's surface as it came to a halt watching the two before it. As it saw the remains tossed to the side, its head would tilt as it watched the bones and remaining pieces slip into the water only for seconds later for some cross between a frog, fish, and a little person to come cautiously out from under the rock. It would hesitate seeming to be highly aware of things on the rock, but more so looking out of the corner of its eye towards the odd fluffy thing standing on the water's surface watching it.

It hesitated, but then becoming brave snatched the remains with a light splash before hauling tail out of the area going lower below the water's surface. Hmm. How curious. Just how many unique species were there under the glass like surface it was on.? The creature would wonder this before blinking as it looked towards the pink thing now relax and the bird thing that could apparently talk. Neither seemed to notice itself, but this was perfectly fine. Even more so because said creatures were about to give it a display of creature interaction. Focusing on this, the strange fluff ball would sit on the water's surface and watch as the pink thing....Hmm. No, no not thing. "Great Dragon of the Sea" as it called itself. Anyway, it would watch as the Great Dragon of the Sea took offense at the bird thing's words and was now demanding that the words be taken back.

It was then that the creature would speak in a fashion. "Insults, words, actions. Neither of these can be taken back only changed to please the other party. In a nutshell, your request is illogical and impossible. Unless of course you can rewind time, but even then the correction is only a stone for a different sort ripple effect." The voice that spoke was monotone, genderles, and came from all around? Well yes. It would appear that way since the creature watching them didn't open its mouth one time during this whole thing as its red eyes continued to watch the pair with that smile. Surely such words didn't come from it....did it?
on Sun Dec 31, 2017 6:41 pm
Huh? The winged creature would just tilt his head when this pink lady started being all aggressive towards him for the bland comment he made, his tail making a slight swish as he was about to give some sort of a response. Before he could however, another voice joined the fray, making him look around briefly in an attempt to locate the new disturbance. Whether he did notice and link it with the small whitish creature watching them from nearby or not would be uncertain for the moment, as he would soon turn his attention back to the loud spotlight of the show, seemingly more interested in continuing the current conversation. Well, in a way, at the very least. Rhys would just settle down on the rock more, pretty much laying down on it as he spoke. "There's no reason for me to change what I said simply because one tries to intimidate me into doing so. You're loud. You can bark all you want, but you know what they say about dogs who are too busy barking to legitimately bite." He was clearly largely unconcerned by this, based on his behavior. Why should he be anyway? There was no real threat to be found in pompous words unless they were backed up by some evidence. Albeit, he was mildly curious about this second person who had butted in...
on Tue Jan 02, 2018 6:34 pm
Luna didn't see why this creature even had a reason to insult her, what had she even done wrong? She was simply going about her daily life as she always did! Where's the harm in that? Everyone's gotta eat one way or another, why not make a game of it? Not like there are usually random bird things out to sea like this anyway. Except the gulls, but they've never had an issue before! Sheesh, sorry she was trying to just have fun. Doing the same thing every day on your own gets boring without putting a little self excitement into it, why didn't anyone get that?
Why did all her interactions with people start out like this anyway? Luna could never learn how to keep her stupid mouth shut from just shouting at people even if she didn't want to. Even now she was about to keep on shouting but a strange voice from nowhere and everywhere stopped her and caused her to look around confused. Following the unrecognized scent her nose picked up, she'd eventually look over in the direction of the new comer. Whether or not it was that thing that spoke was hard for her to tell but she was still absolutely confused how it was just sitting on the water like it was. "Woah. What the hell are you? How light are you that you can just do that?" She'd question curiously before the beaked thing spoke again and her attention drawn back to it.
"Oh? No reason, hey?" This isn't going to end well is it... "Don't think there's a reason to respect the Great Dragon of the Sea?" Why do I have to be so aggressive all the time, what will this even solve? "If you think I'm just all bark, why don't you step forward and see for yourself!?" Though there was no stopping my pride from shouting whatever it wanted to. Luna would take a defensive stance as if readying herself for combat, a small amount of steam started escaping from her nostrils as something welled up inside of her.
"If you're so confident, let's do this! Right here, right now!"

Permissions in this forum:
You
cannot
reply to topics in this forum